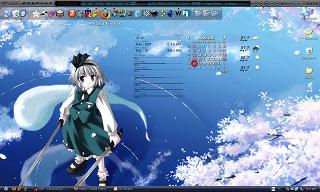 Youmu is walking on water. Like Jesus.
I'm gonna start talking about my desktop now. "WHY?!" is what you may be thinking. Here's why!
[3:15] <TraXanh> SCIP
[3:15] <TraXanh> SCIP
[3:15] <TraXanh> What are you doingz
[3:15] <TraXanh> that is worth
[3:15] <TraXanh> telling
[3:15] <Scip> Putting photos into an album!
[3:15] <TraXanh> about
[3:15] <Jwn> sounds epic
[3:15] <Scip> it is taking a very long time
[3:15] <KirbY> D:
[3:15] <KirbY> since yesterday!
[3:16] <Scip> yeah
[3:16] <Scip> there are like 1000 photos!
[3:16] <KirbY> woahhh
[3:16] <TraXanh> I have alot of images on my desktop
[3:16] <Jwn> man, i'm bored
[3:16] <TraXanh> which I dont bother to rename!
[3:16] <TraXanh> !!
[3:16] <KirbY> I don't have files on my desktop
[3:17] <KirbY> IN FACT I WILL TALK ABOUT MY DESKTOP ON WALFAS NOW
[3:17] <KirbY> AWESOME
[3:17] <Scip> !1
[3:18] <TraXanh> !?

Well actually I don't really know why I'm going to talk about my desktop. I just want to write about things. So anyways, as you can probably tell, I'm using a widescreen monitor! It's no ordinary monitor either! I have this magical remote control thingy that has this button that switches the screen to a TV! That's because this monitor is actually a TV screen that can be used as a computer monitor. I can also press this one button on the remote, and it adds this little box to one of the corners of the screen, and that box has live TV! I can't screenshot it, because it's not really on the computer. But it's quite cool. I think it's called a pip. At least, that's what it says on my remote.
There's not that many icons on my desktop, but that's because I have rocketdock! It's that thing at the top of my screen (below the grey music toolbar thing, which I will explain later), and it's very cool. It's like those things you always see on macs but instead, it's on windows. And stuff. You can set the size of the icons, the style of the dock, the transparency, the position, the delay, etc. I have mine set on auto-hide, so it only comes up when I move my mouse to the top of the screen. I made my own PCB and IN, because the original icons kinda suck. I vectored the IaMP icon, back when I used to have the icons at a larger size.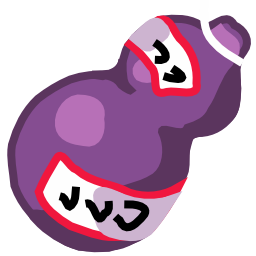 An IaMP vector I made in InkScape.
For the desktop calendar, I'm using rainlendar's default style, and for the desktop stats and weather, I'm using rainmeter (Simplicity Black and a self-modified version of Moxa-Weather). I don't really need them, I just think they look nice there. Also, they take up some of the empty space left behind after I moved all my used icons to rocketdock.
I'm using jetAudio for the toolbar thing that's at the top. It's a music player that came in a CD with my mp3 player(s), and since it loaded songs faster than RealPlayer (which I was using at the time), I decided to stick with it, and it's quite awesome, in my opinion. For the windows style, I'm using Royale Vista. It's kinda smaller than the default Windows XP styles, but you get used to it after awhile. Another good option would be Royale Noir, which is an alternative to the default styles.
Anyway, these blog entries have been a bit long… they'll probably get significantly shorter as time goes on, and hopefully more interesting.