I added a bunch of stuff to the "about" page. It has stuff about things. That's why it's called an "about" page. I'll probably update a bunch of times today, seeing as I have lots of things that have not been talked about yet.
And the reason why I'm using images in these posts is because they make everything look interesting. I mean, most people like looking at images when there's a huge block of text, so they won't have to think "Oh god here's a huge block of text with no images to separate it, I'm not gonna read it because there's no images!" (Well I'm just making that up, but I'm sure some people think that way, and even so, they'd probably look at just the images anyway… and maybe the captions)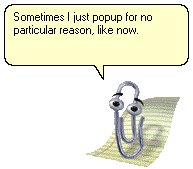 Here's an image, and it makes things interesting! Thanks, paperclip!